Sustainable Design is the need of the hour. At present, architectural and interior design trends have opted for a specific orientation, that of sustainability, care and preservation of the environment.As the state of the environment becomes an ever-pressing issue, designers today, are seeking to create furniture that does not pose to be a threat to the planet.
When you move out of your present-day furnished house, do you ever wonder about what happens to the old furniture sitting in your home? Unless the next tenant decides to use that old furniture, it is going toget dismantled,disposed and reduced to ashes. Heavy combustion of this discarded furniture made of wood, plastic and glass leads to increasing air pollution and various other environmental hazards. However, this can be avoided by promoting the idea of creating sustainable furniture design.
Efficient and optimized use of available resources is not a new concept. We have been seeing the implementation the 3 R's of waste management – Reduce, Reuse and Recycleat various scales in our own culture for many generations. For example, before the invention of chemical fertilizers, farmers used to practice organic farming by using available crop waste as a natural fertiliser to avoid burning the harvest debris causing air pollution. In the same way, it is possible to reuse the good quality furniture by carefully innovating and redesigning it as per the client's requirementso as to create something aesthetically pleasing as well as eco-friendly to promotesustainable living. Not only does it prove to be an environmentally sound design solution, but it is also extremely cost-effective.
The fact that a piece of furniture (a chair, a bench, a table …) is more or less sustainable depends on its life cycle, its duration and the subsequent management of its waste. That is what differentiates sustainable furniture from conventional. This is what we know as a circular economy. But what do we understand by this concept of circular economy?
The circular economy is based on the use of resources. A system that attempts to reduce both the use of raw materials and the generation of waste. The idea is to reuse and recycle, always adding value. In the case of furniture, the idea is that if a piece of furniture reaches the end of its life, its materials can still continue to be part of the economy, giving life to another piece of furniture.
Keeping this in mind, our firm has designed a small 2 BHK apartment with complete reused furniture.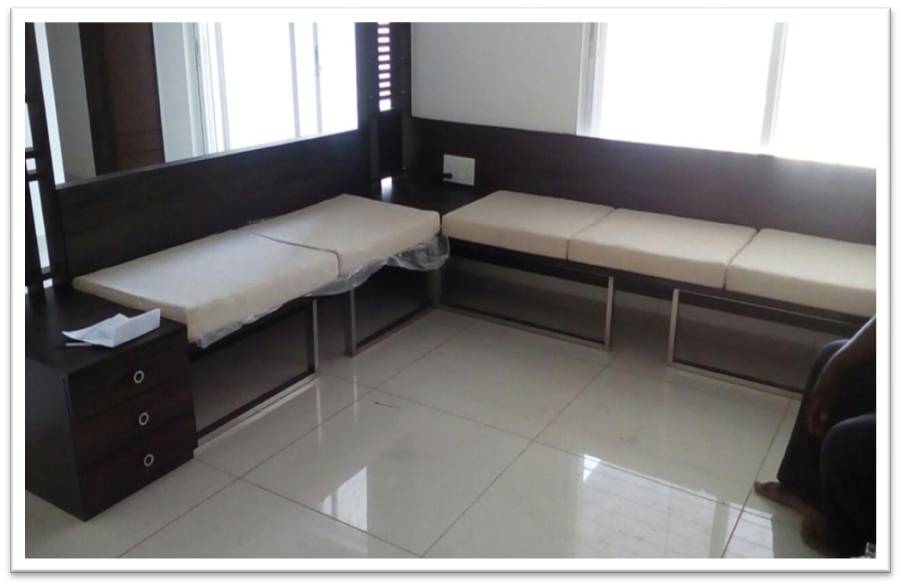 Living Room Seating
In this technique of re-using old furniture, the existing pieces of furniture are first dismantled into fairly usable portions of plywood. These portions are then cut into the desired shapes and sizes based on the proposed design and finished with the appropriate polish. This contemporary living room seating was made out of completely reused plywood and fixed with a new stainless-steel frame. Even though plywood makes fairly efficient use of trees, only about 50-75% of the usable volume of wood in a tree is converted into plywood. Thus, reusing the pieces of plywood from good quality old furniture is an important step towards creating cost-effective and eco-friendly design solutions.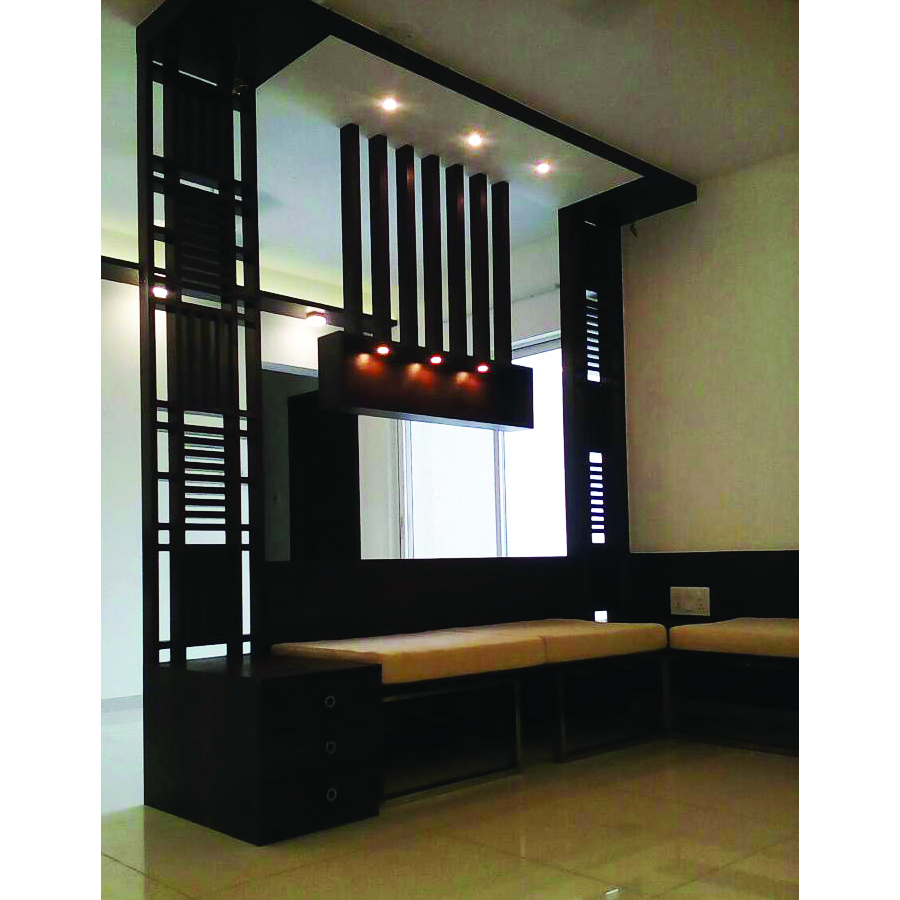 Living Room Partition
In this re-use technique, it is important to distinguish between the quality of the wood as well as it is reuse potential. Over a period of time, some parts of the wooden furniture become weaker than the others because of exposure to moisture. Such wood cannot be subjected to structural load. However, can be used as a non-functional beautifying element of a whole unit. We identified such portions of wood, which were slightly fragile and slenderised them to create the decorative vertical fins for the partition unit between the living room and dining area. The design is such that it accommodates the living room seating in its structure so beautifully. The entire unit is designed out of re-used plywood and it gives this quaint little apartment a modern and sophisticated look!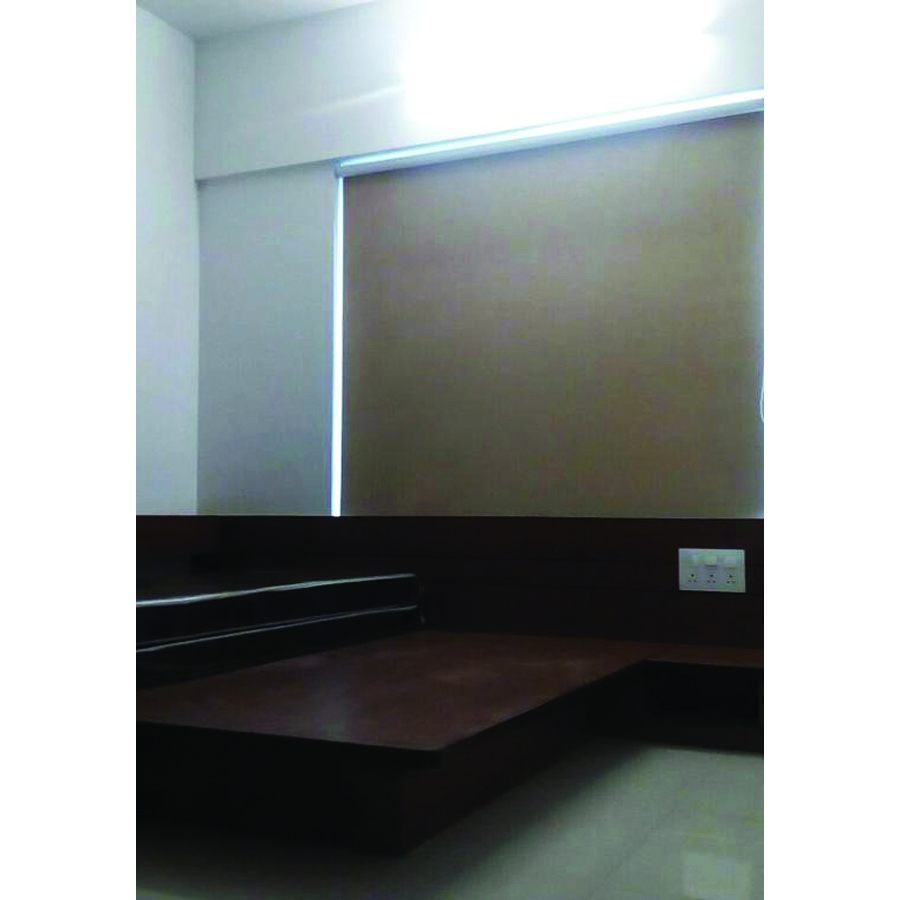 Bedroom Bed made out of recycled wood
The bedroom wardrobes as well as the bed has been made using completely reused ply finished with a fresh laminate. A comfortable, standard queen-size bed was installed on site using re-used ply with an attached bed-side table equipped with a drawer for storage. The hardware such as switchboards, door handles etc. used are all brand-new, but the entire body of this contemporary designed bed along with the spacious modern cupboards, have been made out of re-used ply and it does not look anything short of new!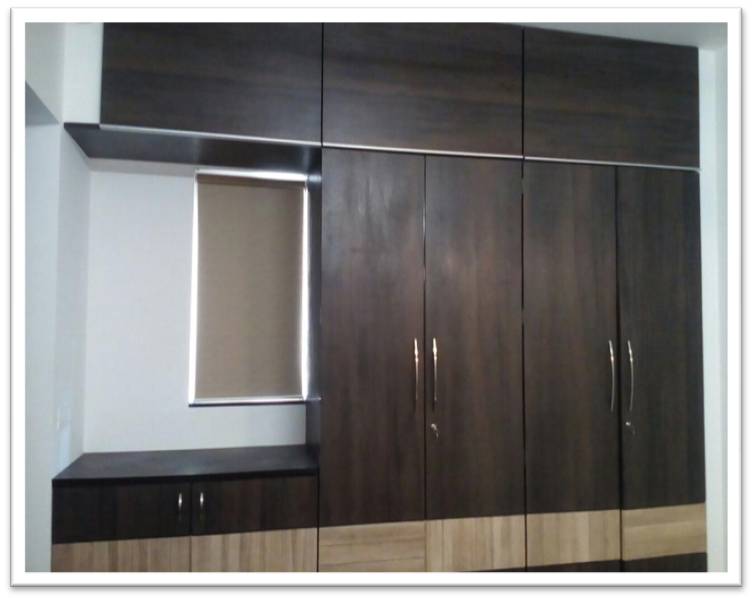 Bedroom wardrobe made out of recycled wood
Thus, as we have seen, reusing furniture allows us to use natural materials and processes that respect the environment, which will result in healthy furniture for the planet and for us, because they do not pollute space. They are furniture that minimize the environmental footprint and contribute to non-deforestation. In short, they are furniture that allows us to contribute our grain of sand in building a better and fairer world.Afterall, the best way to PREDICT the future is to DESIGN it and with this project, we are positive that we have taken one step in the right direction.